Car-Air-Conditioner Servicing Guide!

Car-air-conditioner servicing is a very interesting job. If you have the tools and equipments, you can save a lot of money if you do it yourself. But before you try anything else you should have the knowledge of refrigeration.
Now we know that the refrigeration cycle is as follows:

The returning refrigerant from the evaporator circulates to the suction of the compressor.
It then compresses the low pressure low temperature refrigerant into high pressure and high temperature refrigerant.
When it reaches the condenser, the heat absorbed from the evaporator combine with the high pressure high temperature from the compressor, is released into the atmosphere.

The gas refrigerant condensate into liquid refrigerant, and is passing through a receiver/dryer, where the moisture content of the refrigerant is absorbed,
and the dirt, metal particles, are filtered after leaving the receiver/dryer.
The refrigerant then passes to the evaporator, where the heat inside the passenger compartment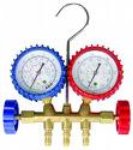 is being absorbed. The liquid refrigerant turned to gas, and the cycle repeats again.
Knowing the refrigeration cycle, we begin our servicing by evacuating the system.
1) Hook up the gauge manifold, hang it on the hood catch. Connect the blue hose to the suction valve, and the red hose to the discharge valve. Close both blue and red hand valves.

2) Connect the yellow hose to the inlet of vacuum pump.
3) Open both blue and red hand valves. Run the vacuum pump, after 10 to 15 minutes, the reading on the compound gauge should be 29 to 30 in. Hg vacuum.
But if the needle is steady on a lower reading, it means there is a leak in the system. If there is no leak, close both hand valves.