Condenser Flushing Procedures!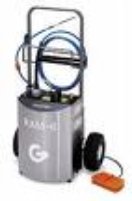 Condenser flushing is necessary if we have encountered internal problems, like a burn compressor; or the coils had been opened for a length of time. Moisture, dust and dirt are already inside the coils.
R-11 has been used more often than other refrigerant. It has good cleaning ability and does not freeze the skin when come into contact.
The molecular formula of R-11 is CCl3F, it has a boiling point of 23.77 degrees Centigrade, and it is not flammable.
1) Prepare the flushing machine. Connect the discharge hose to the top side copper tube, and connect the return hose to the bottom copper tube.
I have made myself a flushing machine using a small 1/4 hp water pump installed on top of a refrigerant tank. Two 3/8" diameter iron tubes was installed into the tank.
The bottom end of the discharge tube is 2 inches above the floor of the tank; and the discharge tube is connected to the suction side of the water pump;
and a 3/8" diameter tube is installed on the discharge side of the water pump. The bottom tube on the cylinder has a filter installed to filter out dirt and iron particles.