About Me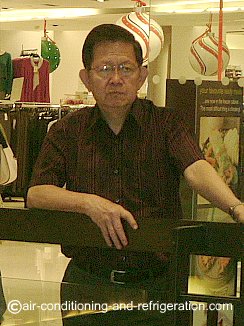 It all started in 1988 when one day my refrigerator broke down. I telephoned an air conditioning servicing company to repair my refrigerator. Two men came and they replaced the filter/dryer, charged refrigerant and left. The next day the refrigerator is still not working properly, it is running hot!
Two days later three men came, and after inspecting the refrigerator, they decided to replaced the compressor with a new one. The next day I checked the refrigerator and it is still defective; the compressor was running, but I can feel nothing cold inside, and no ice.
Since I have had repairing air conditioning experience myself, and have a complete set of tools and equipments, I traced the problem, and found out that there was a leak in the evaporator. I bought a new evaporator and put everything back together, and installed a service valve to the suction side and the discharge side of the compressor.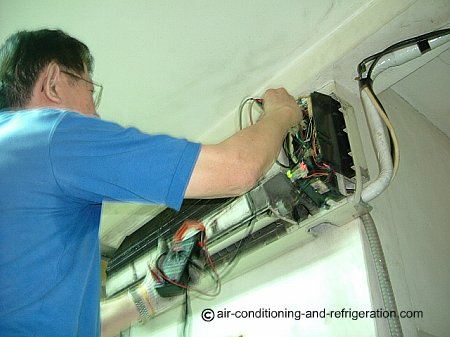 Following the text book instructions, and one hour system-evacuation, refrigerant was charged accordingly and compressor running current specification followed. The refrigerator was working fine since then. My interest in the refrigeration was awaken, and I went into research, and buying text books from abroad.
I went to technical schools, and attended seminars on air conditioning and refrigeration to broaden my understanding of the subject. I started home servicing, and found out that I could help my neighbors repairing their air conditioners and refrigerators. Then the installation and repairing works broaden.
I documented my works, took digital pictures, wrote down what I have done. My continuous research on the field of air conditioning and refrigeration took me to far away places. I bought text books from abroad, honing my soldering and brazing skills, and updated my tools and equipments.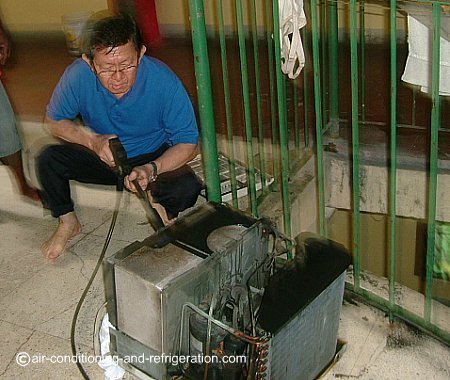 Today, I tied up with a friend who is importing refrigeration supply and spare parts from abroad, and continued serving our customers. We guarantee our works for six months to one year, and provided reasonable prices for our parts, equipments, and services. We see to it that all our jobs are done professionally.
The news of our achievements spread, and we continued helping people with refrigeration problems. The search for further understanding on the field continues every day, and it just make you feel good when you see a lot of happy customers and friends.
---
Private Policy
Air-conditioning-and-refrigeration.com (the website) strives to maintain the highest standards of decency, fairness and integrity in all our operations. Likewise, we are dedicated to protecting our customers', consumers' and online visitors' privacy on our website.
---